The year is winding down, but between 2015 reporting and New Year planning, it feels like B2B marketers are just getting started.
The end of the year can be stressful — below, you'll find a sample of things (expressed in GIFs, of course) that you've probably experienced over the past month.
Keep holding on… we're all in this together!
1. You realize how few days you have left until the end of the year and how much you have to check off on your "to do" list, which causes you to have a mild anxiety attack.
There simply aren't enough hours in a day!
2. But, stuff must get done. So you take a deep breath and dive into your year-end reporting.
CANNONBALL!
3. You'll have to revisit a few campaigns that didn't go so well and will be unimpressed by these metrics.
"You know nothin', Google Analytics."
4. But, you'll also get to review the campaigns that killed it and be reminded of your team's awesomeness!
It's morphin' time.
5. Meanwhile, you have to keep your holiday and year-end marketing campaigns up and running…
Multitasking FTW.
6. Which involves trying to nurture leads while they're on vacation…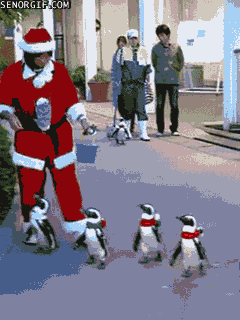 7. And creating and editing content until the very last minute…
8. And never-ending optimization.
Make it rain.
9. Eventually, you'll find the time to start planning for 2016!
Here we go!
10. After gathering your insights from 2015, you'll have to set your targets for next year.
Ready, aim…
11. You'll have to set your budget.
Now we're talking.
12. You'll also have to brainstorm your content and campaigns and build out your editorial calendar.
Come on, brain!
13. You might even get to try a few new tools that will help set you up for success in 2016.
New toys, woohoo!
14. You'll get really excited when
your whole marketing team is on board with your new ideas.
Feel the love in the room from the floor to the ceiling.
15. For a while, it might seem like you're stuck at the office, but…
16. Because you're a sophisticated marketer, everything will go off without a hitch and your holiday spirit will be renewed!
17. So, party it up with your coworkers…
You deserve it!
18. Set your out-of-office autoresponder…
Error 404: Marketer not found…
19. And have a fun, safe, and happy holiday season!